Hotels are often full of surprises. Sometimes it's an unusual location, standout architecture, fascinating backstories or an outlandish art collection.
So when an industry colleague, Chris, invited me down to Pattaya, two hours south of Bangkok, to see his latest sales project I figured it was going to be just another hotel inspection. But, no.
The expansive, 350-room
Eastern Grand Palace
is located right next to the Bangkok rail line, a good few kilometres from the beachfront frenzy, which in itself could be either a pro or con. Trains are infrequent and unlikely to cause any disturbance and the Pattaya South platform is a handy asset.
Arriving off the street into the football field-size car park, one is greeted by the first of many intriguing works of art scattered throughout the property like Easter Eggs. It's a substantial bronze sculpture in the form of a circular waterworks adorned by two shapely female aquatic nymphs. One's first reaction could easily be to recoil at the tackiness of the dated installation. But wait, look closer. The execution is quite fine and the sculptor's proportions are precise and intricately defined.
As we explore further, I learn the constant cooling breezes that swirl through the foyer and lobby are thanks to the planned positioning of alcoves around the floor's perimeter. As a result, expensive air conditioning bills are avoided. Clever.
The expansive pool is quite impressive (supplied)
Now, the backstory. The eight-storey Eastern Grand Palace was a vision of Chinese-Thai real estate tycoon, Weechet Kanjanakit, begun from the skeletal formwork of a failed condominium some 20 years ago. The eighth floor was added to the existing structure as were numerous secondary structures such as retail outlets, restaurants, pool and a whopping function centre capable of entertaining up to 500 guests or delegates.
Chris introduces me to Khun Kit, the son and heir apparent who has embraced the hospitality side of the family enterprise. Kit is surprisingly forthcoming with the historical development of what has become his ambitious pet project.
"Following the COVID years my father had become disenchanted with the hospitality business and the hotel became neglected," Kit tells me, "but after some energetic discussion with my father, he agreed to let me reopen and revive this family asset."
The Rattanakosin ballroom is the largest function room at the Eastern Grand and can for special functions even be extended by the large lobby on front of it. (supplied)
Chris and Kit show me around the ballroom and function centre, still festooned with the trappings of a recently completed conference. Despite the dated décor, it's clearly all set to host its next conference. Away from the seaside mayhem, the centre offers a much quieter location, ample parking and a fiercely competitive rate.
Next door, the vacant restaurant, the former White Horse, is something of a 'work-in-progress'. It's a kind of alpine chalet meets Irish Pub meets sports bar. In the courtyard and inside are more of these surprising bronze sculptures. But frankly, it needs a big rethink.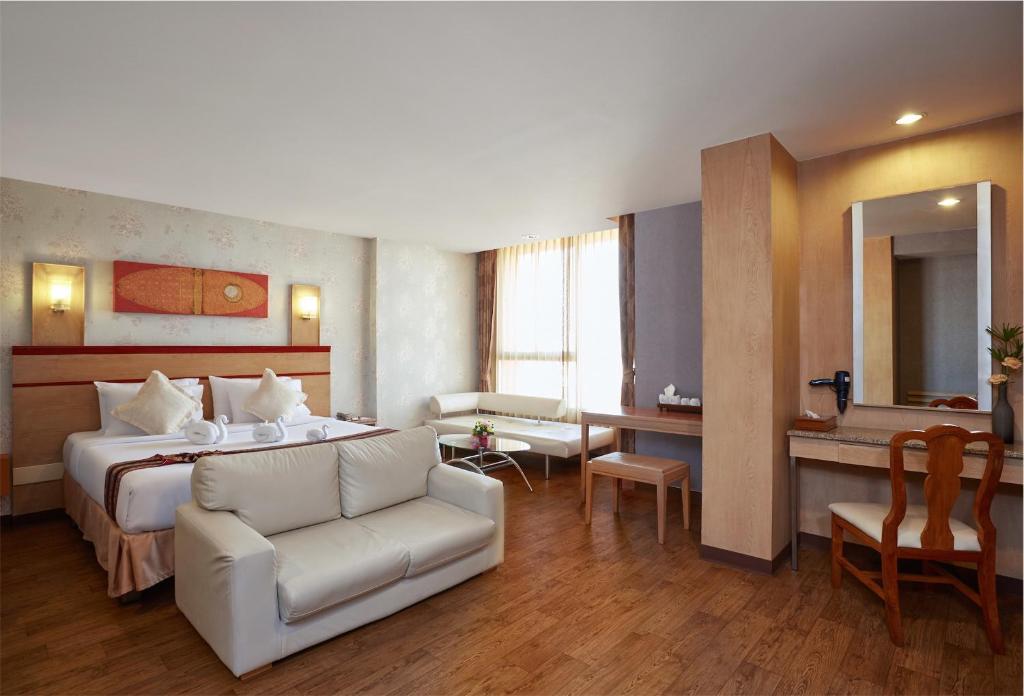 Premium rooms are generously sized (supplied)
Exquisite figurine (RE)
My room is a generous 45sqm, about twice the size of some recent newbuild rooms I've sampled recently. The bed is firm and comfortable and while largely unremarkable, everything works just as it should.
At this point in time, the occupancy rate – away from conferences – is nothing to write home about and I enjoy a hearty, if spartan breakfast with less than a dozen fellow diners. While I didn't dine at either lunch or dinner, I'm informed the restaurant is open for these meal times.

On my way to the room, I find myself stopping to admire a bronze figurine set into the wall next to the lifts. About the size of a pixie and in some unknown attire, she's executing a dance routine with such a blissful demeanour that she demands attention. While you can argue the artistic merits of the other pieces, she is just divine and I enquire as to her origin. I'm met with blank faces and shrugged shoulders but resolve to uncover her history. Watch this space.

Even if you're not staying at the hotel, it is an intriguing visit all the same.
Fact File:

Eastern Grand Palace Hotel Pattaya
99/1 Soi Khao-ta-lo, Sukhumvit Rd.
Nongprue, Banglamung,
Chonburi 20150, Thailand
All material (c) Copyright
Traveloscopy.com
unless noted otherwise.