I have to say from the outset that I am no big fan of monster ship cruising - yet here I am on Royal Caribbean's Ovation of the Seas along with 4000 other passengers heading for New Zealand. So how did that happen?
Well, you can blame Covid. We were booked three years ago to head in the same direction aboard a ship we like, Radiance of the Seas. The cruises kept being cancelled and we were shifted to the following year. In the meantime, RCL decided to replace Radiance with Ovation. You might also wonder why we sail at all on Royal Caribbean. The answer is simple enough - when the kids were quite small I figured cruising was the best and most economical way to show them the world. We always booked a suite and the kids usually travelled with us for free. I won't go into the advantages of spending more money on a suite - but take it from me it is a smart move.
So, getting back to Ovation, I always wondered about what I assumed was the nightmare of boarding 4000 passengers and trying to get off to explore. I can't comment yet on the latter yet - but surprisingly embarkation was fairly quick and easy. Under the old system, after your documents are checked you head to a long counter and wait until one of the check-in staff is available. Those days are over - we moved down a line for suite guests - our documents were checked and then you head to a staff member who checks you in using an iPad or similar. You then head through security before walking onboard. Now normally you would have your card and it would be scanned as you board - but we had no ID at all at this stage. When you get to your suite the key in attached to your door. I should mention that RCL requires a Covid test taken within 24 hours before you board - we used a phone to photograph our results so you could see the date. I don't know how other people got on - it is fairly obvious that you could roll up with a result from anyone, taken anytime.
The cruise company does recommend that masks should be worn in busy areas - but not many passengers are complying at this stage. When you walk in to what would normally be an open foyer area with wide sweeping stairs heading upwards you are immediately struck by the lack of natural light and the feeling that you are on level one of a high-rise office building. The stairs are really only for an emergency. Radiance Class ships for instance were built with over three acres of glass. Because of this, the ocean is viewable from nearly any vantage point onboard. Even the glass elevators look out to the ocean, providing excellent views of the sea as you make your way up and down the ship. Getting back to Ovation, you then walk through the extensive shopping mall to the lifts. We are on the 12th floor - our bags were already delivered (impressive) and a packet on the door contained our four cards.
The suite is more than big enough for four people - and we have a huge, wide balcony with two comfy lounge chairs plus a table and chairs for dining outdoors. All the mod cons are here including a coffee machine. The main bedroom is separated by a wall from the lounge dining area and there are two bathrooms. We have plenty of storage space, a TV in both rooms - the only surprise was the power plugs. I assumed wrongly that they would be international plugs - in fact, they are European. We do have a number of USB plugs though - essential in this electronic world. An Ovation first is the elimination of wood balcony rails. The glass walls are much higher than conventional ships making viewing out to sea from a chair a pleasure.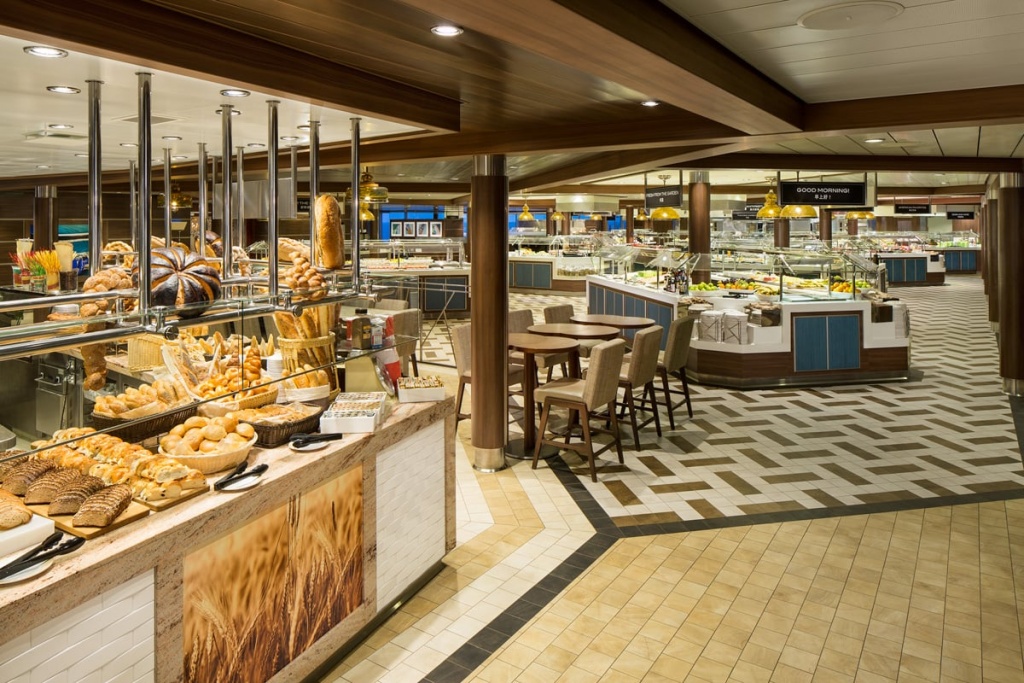 Snacks aplenty in Windjammer
Everyone was starving at this stage so on to the Windjammer for a snack before heading down to our level 4 station to advise we had watched the emergency video. You don't have to gather at your station with a lifejacket anymore - they simply scan your card. Next a few drinks at the concierge lounge exclusively for suite guests as we watched our departure from Sydney. Plenty to eat in the lounge - but we were saving for dinner at the Chops Grille - a legendary RCL restaurant for steak lovers. As always we were not disappointed. We always buy a package deal for the specialty restaurants including Chef's Table, Jamie's, Izumi Japanese Cuisine and Wonderland and we also have access to the Coastal Kitchen - a quality restaurant exclusively for suite guests which I can highly recommend. The staff we have encountered so far are super polite and efficient. Tomorrow is another relaxing day at sea and in the evening, Jamie's Italian restaurant.