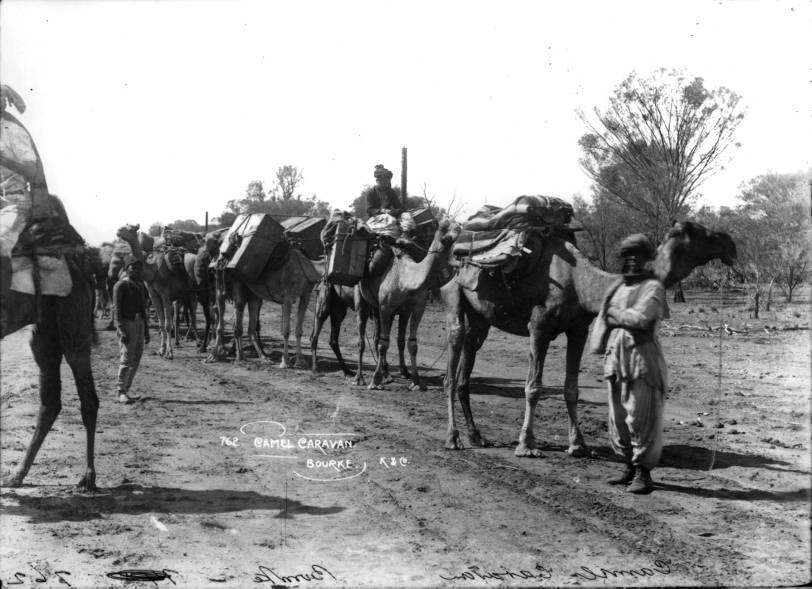 David Ellis
WHEN it began over eighty years ago passengers were never led to believe there would be much in common between the time their train from Adelaide was scheduled to arrive in the little Northern Territory town of Stuart, and the time that it did, in fact, get there.
And even when it finally chugged into Stuart on one occasion in the 1930s not a couple of hours late, but a couple of weeks late, rather than the driver and his crew being condemned as bungling fools, they were lauded as heroes of The Outback.
It was because their train had become trapped by floods in the middle of nowhere – and driver, fireman, guard and cook had waded out daily and shot wild goats trapped on islands in the flood to feed their 90-odd stranded, and hungry, passengers.
The narrow-gauge line from Adelaide to Stuart (later re-named Alice Springs) was begun in 1878, but somewhat like those timetables, took fifty-one more years to get there.

And prior to the first train's arrival into Stuart in 1929, for many years it terminated at Port Augusta, passengers continuing on from there by road, while freight was transferred to camel trains operated by Afghan cameleers. Seeing the dust of the camels in the distance, owners of Outback properties would radio word to others up the road that "the 'Ghans are coming."
Thus the new train simply became the more-modern 'Ghan,' the first steaming into Stuart in the first week of August 1929 two days after leaving Adelaide. And although hours behind schedule it was declared to be officially on time – it had, after all, arrived on the day promised.
And such delays were soon common-place.
Steel rails would often buckle so badly in the 40+ daytime heat, that train and passengers would sit and wait for hours until the lines returned to normal in the cool of night.
Drivers would also see rails simply parting before their eyes after voracious termites chewed through hardwood sleepers. So spare sleepers were carried aboard – and passengers would pitch-in with crews to speed-up impromptu emergency repairs.
Kangaroos and emus, drawn by the still-warmth of the rails on cold nights, would also be mown down in the darkness in their scores causing more delays – one journalist writing of seeing The Ghan arrive in Alice Springs "with more kangaroo fur and emu feathers plastered over the front of the engine than the Australian Coat-of-Arms.
Then there was that day in the 1930s when the usually dry Finke River erupted in flood, trapping The Ghan between the raging river before it, and the countryside going underwater behind it.
After more than a week, the stranded train ran out of fresh food, so the crew went daily goat-hunting: for five days crew and passengers alike lived on goat and tea for breakfast, goat and tea for lunch and goat and tea for dinner.
On another occasion when The Ghan got into Alice Spring days behind schedule, an Adelaide newspaper noted: "Timetables for this train are more a matter of hope than fact… not only is the hour of arrival indefinite, so too the day…"
The government-operated Ghan was sold after nearly 70 years to a private company, Great Southern Railways and in February 2004 the first journey was made linking Adelaide to Alice Spring and onwards to Darwin – over 125 years after being first mooted.
Today the 2,979km trip from Australia's southern coast to its northern shores takes 2-nights/3-days and is hailed as one of the worlds' great train journeys. And it runs now on a new standard-gauge line, the original narrow-gauge route being abandoned in 1980 because of regular flooding – and concrete sleepers are used the whole distance to thwart those pesky termites.
The Ghan's weekly services departs Adelaide on Sundays and Darwin on Wednesdays, with additional weekly services June to September. There are three classes of travel: Red with Day/Nighter seating and café meals and drinks available for purchase, Gold with compact sleeper cabins, and Platinum with more-spacious lounge-style cabins.
Gold and Platinum also include restaurant-style meals, soft and alcoholic drinks with meals and in a lounge car, and off-train excursions at Alice Springs and Katherine.
……………………..
PHOTO CAPTIONS:
[] THE GHAN winds its way through the famed Red Centre.
[] STARTING the day well with a hearty breakfast in Gold and Platinum Class Queen Adelaide Restaurant.
[] OUTBACK Explorer Lounge for Gold and Platinum Class passengers: standard beers, wines and spirits are included in the price here.
[] DAY/NIGHTER seats in budget Red Class carriages.
[] GOLD Class sleeper compact and cosy at day's end.
[] PLATING-up delicious meals in the spotless galley for guests in The Ghan's Queen Adelaide Restaurant.
(ALL Photos courtesy Great Southern Railways)